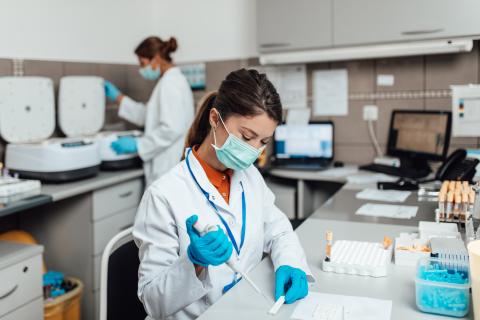 CDG is a large group of rare, inherited disorders that affect a complex process in the body called glycosylation. Most children who have CDG have neurological issues and symptoms, developmental problems, growth delays and problems with organs not working like they should. CDG is not just one disorder, but rather, a group of disorders. There are many types.
Symptoms
Symptoms vary depending on the type and sub-type of the diagnosis. They also vary among family members with the same type. Symptoms can range from mild to severe. CDG can affect every body system. Because the condition is very rare, only a few people have each type and sub-type. This makes it hard for health care providers to have a complete list of symptoms. Not everyone has every symptom. Some have serious medical conditions which can be life-threatening.
Symptoms may include neurological problems (developmental delays, cognitive impairment, seizures, ataxia, dysarthria, esotropia), growth problems (failure to thrive, growth delays), organ issues (gastrointestinal symptoms such as diarrhea and vomiting, liver, heart), endocrine problems (hypothyroidism, hypoglycemia, hyperinsulinism, growth hormone deficiency), skeletal and joint problems (scoliosis, joint problems), hematologic problems (blood clotting issues, thrombosis), and general problems (severe or long lasting infections, swelling of skin and fluid collection around organs).
Diagnosis
CDG is usually diagnosed at a young age. Children with CDG are often mistakenly diagnosed with other conditions. This is because their symptoms are similar to symptoms of other conditions. Some are mistakenly diagnosed with cerebral palsy or other neurological or genetic disorders. An important part of diagnosis is ruling out other conditions. Types of testing may include genetic testing (most reliable way), blood testing to check for missing sugar building blocks on hormone proteins, coagulation factors, transport proteins, and elevated liver enzymes (ALT and AST), transferrin glycosylation testing (to check for missing or incomplete sugar chains, and additional testing (such as liver ultrasounds, x-rays, MRIs, etc.).
Treatment and Prognosis
Although there is currently no cure for CDG, there are many treatments and therapies available. The goal of these treatments is to treat the symptoms and the problems caused by the condition. This type of treatment is called supportive therapy. Supportive therapy may include physical therapy, speech therapy, occupational therapy, special diets/supplements, seizure management, heart medication, hormone supplements for growth, antibiotics for infection, and/or organ transplants.
Learn More About Specific Disorders h2 >