Resources for Patients and Families h1 >
COVID-19 and CDG
View our webinar with updated information on COVID-19 infection and vaccination in CDG hosted by Andrew Edmondson, MD, PhD, clinical director of the CDG Clinic at the Childen's Hospital of Philadelphia and a principal investigator for FCDGC.
Watch Now
Image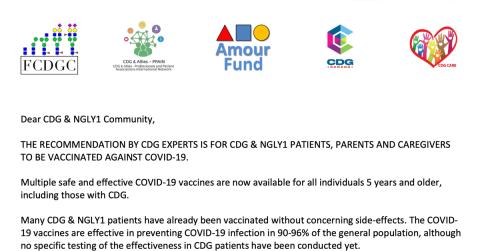 CDG COVID-19 Vaccine Recommendations
A message from CDG CARE and the FCDGC team with guidance for CDG adults with regards to COVID-19 vaccines.
Learn More
Image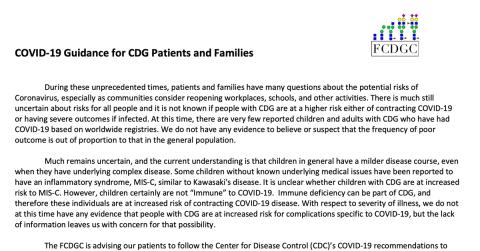 FCDGC Updated Guidance for CDG Patients during COVID19 Pandemic
A resource developed by the FCDGC clinical leaders to help you plan for life during the COVID-19 pandemic. It includes information about what the outlook is like for a CDG patient and the CDC's recommendations for attending school/activities or going into the workplace.
Learn More